About Us:
Assam State Rural Livelihood Mission (ASRLM), is a Govt of Assam initiative for promotion of sustainable livelihood in rural areas. The Mission empowers rural women Self Help Groups (SHGs) with capacity building, credit linkage and market support. All products produced by these SHGs are sold under the brand name 'ASOMI'. The word ASOMI- is an amalgamation of alphabets A- Atmo SO- Sohayok, M- Mahila Gootor,I- Identity (Porichoy). ASOMI also evokes the identity of Assamese people. When you buy ASOMI products you are encouraging entrepreneurship among women SHG members and contributing to women empowerment in rural Assam.
The website presents a range of handloom and handicraft products produced across 20 craft clusters of Assam. Creativity in craft has no limitations in terms of its variety. The craft clusters are capable of producing many more diversified products, tailor made to suit your need. You may like to contact the team leaders of the respective production centres for bulk order or for any design modification as per your need.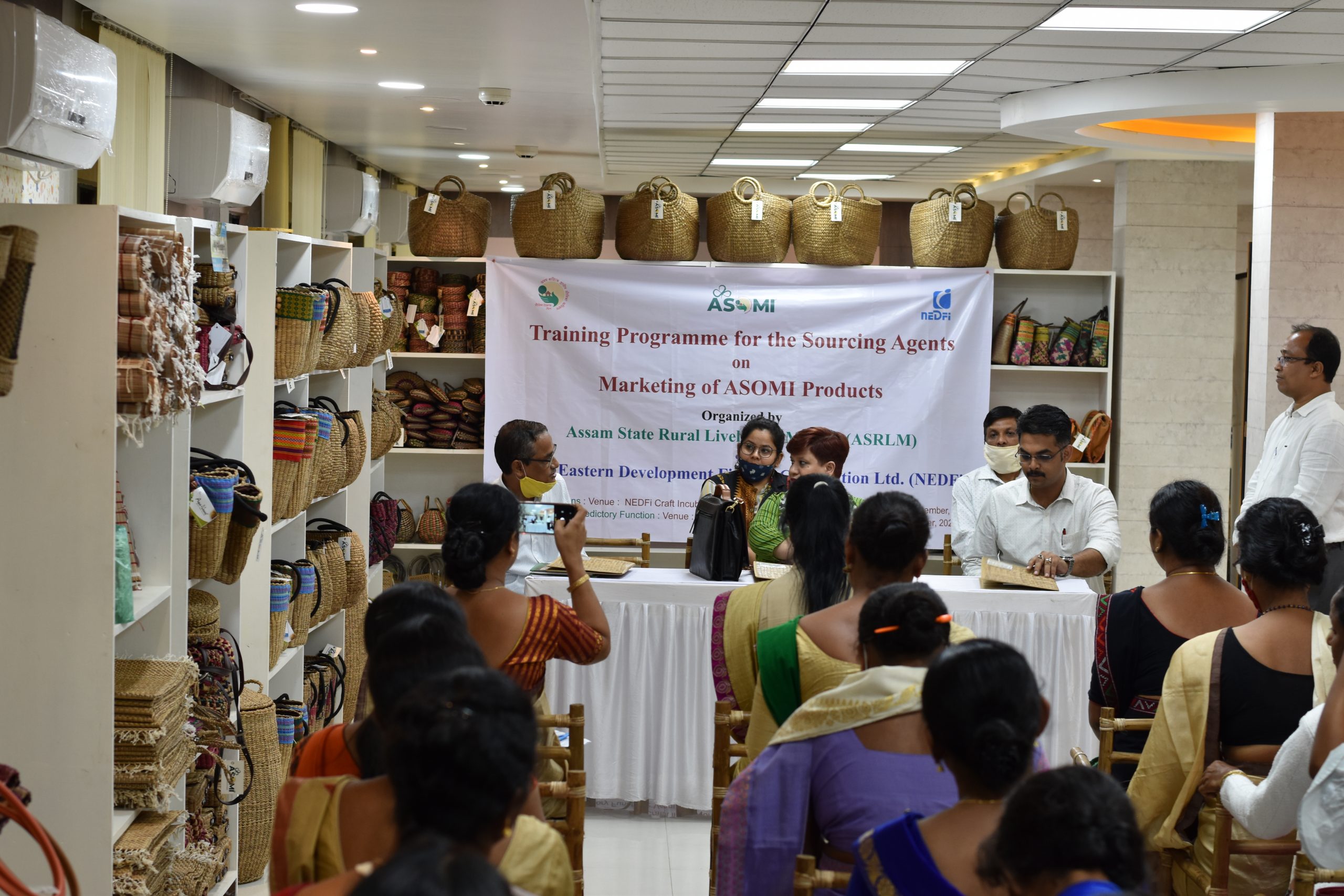 INTERACTION OF CLUSTER TEAM LEADERS WITH MISSION DIRECTOR, ASRLM
The Organization
Assam State Rural Livelihood Mission Society (ASRLMS)
The National Rural Livelihoods Mission (NRLM) is being implemented in Assam by Assam State Rural Livelihoods Mission Society (ASRLMS) with the objectives laid by NRLM for enhancing the social and economic empowerment of the rural poor of Assam. It is an independent and autonomous body under Society Registration Act XXI of 1860, and established by Panchayat & Rural Development Department, Government of Assam on 11th Nov'2011. The Mission has implemented various projects on sustainable livelihood and handloom and handicraft has been a focus area. The Mission intervention not only contributed in value addition to the craft sector but also introduced new raw materials for the craft.
For more details about the organization please visit https://asrlms.assam.gov.in
North East Society for Handicraft Incubation and Livelihood Promotion (NE-SHILP)
NE-SHILP, is a not for profit Society promoted by North Eastern Development Finance Corporation Ltd. (NEDFi), Guwahati for providing market linkage to the artisans and weavers of handicraft and handloom sector located in 8 states of north eastern region of India. NE-SHILP maintains its showrooms at India Exposition Mart Ltd, Greater Noida, Craft Gallery at NEDFi House, Dispur, NEDFi Haat at Rupnagar, Guwahati and Craft Showroom at NEDFi Craft Incubation Centre, Khetri, Assam. ASOMI products are marketed through the NE-SHILP showrooms as per MOU executed with Assam State Rural Livelihood Mission Society (ASRLMS) on 5th December, 2019.
For more details please visit www.nedfi.com or www.facebook.com/aquaweaves or NE-SHILP page at facebook.com/csrNEDFi